Feature:
1.Low reaction force, less surface pressure, reasonable energy absorption.
2.The simple figure is easy to be installed and maintained.
3.Widely used in shipping and docks.
4.Good adaptability for transversal and longitudinal shape during berthing.
5.Used as the suspending equipment of defending dash for all kinds of the shipping and docks .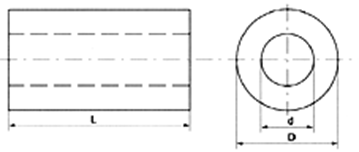 Type

Outer Dia
(D)

Inner Dia
(d)

Length of Product

Note

CY150×L

150

75

500-18000

Products of other sizes can be manufactured at users' requests

CY200×L

200

100

CY250×L

250

125

CY300×L

300

150

CY400×L

400

200

CY500×L

500

250

CY600×L

600

300

CY700×L

700

350

CY800×L

800

400

CY900×L

900

450

CY1000×L

1000

500

CY1100×L

1100

550

CY1200×L

1200

600

CY1300×L

1300

650

CY1400×L

1400

700
Performance

Type

Performance

Reaction Force(KN)

Energy Absorption(KN-M)

Standard Type

High Reaction force

Standard Type

High Reaction force

CY150

45

75

1.5

2

CY200

61

97

2.7

4

CY250

77

122

4.1

6.6

CY300

91

146

6.1

9

CY350

106

170

83.2

13

CY400

121

195

10.2

17

CY500

151

244

16.3

26.5

CY600

183

292

24.5

27.5

CY700

212

341

31.6

51

CY800

242

391

41.8

67.3

CY900

273

439

53

85.7

CY1000

303

489

65.3

105

CY1100

338

539

78.5

132

CY1200

370

585

96.9

155

CY1300

400

635

110

183

CY1400

430

683

131

212

CY1500

460

732

150

243

CY1600

491

792

180

288

CY1700

521

840

210

345

CY1800

552

889

252

414

CY1900

581

938

294

497

CY2000

666

1075

327

596
Note: Performance tolerance is±10%
Performance Curve CY500×250×1000L
Deflection

Per.
Rubbercomp

Design Compressive Deflection 50%

Reaction Force(KN)

Energy Absorption(KJ)

Tolerance

Standard Type

148.1

16.1

±10%
CY500×500×1000L
Deflection

Per.
Rubbercomp

Design Compressive Deflection 50%

Reaction Force(KN)

Reaction Force(KN)

Reaction Force(KN)

Standard type

297.2

63.8

±10%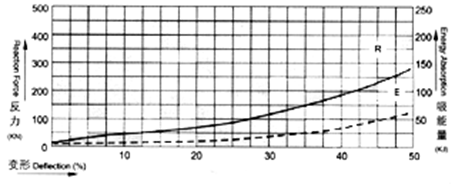 Install
Specification of Ring Type U
Size\Specification

∮D

L

R

a

h

b

A

B

C

A

B

C

A

B

C

A

B

C

Y150

25

25

25

200

200

200

65

65

65

65

65

65

20

8

Y200

25

25

25

250

250

250

65

65

65

65

65

65

20

8

Y300

25

30

40

300

300

300

65

75

85

65

70

80

25

12

Y400

35

40

45

300

370

370

75

85

95

75

80

85

30

12

Y500

40

45

50

350

400

450

90

100

110

80

85

90

30

12

Y600

45

50

55

370

420

500

95

105

115

90

98

100

30

16

Y700

45

50

55

450

500

570

95

110

120

90

95

100

40

16

Y800

50

55

60

500

550

650

105

120

135

95

100

105

40

20

Y900

50

55

60

550

600

670

110

125

135

100

105

110

40

20

Y1000

55

60

65

650

700

770

120

135

155

105

110

115

50

30

Y1100

55

60

65

650

700

770

120

150

160

105

110

115

50

30

Y1200

60

65

40

700

750

950

135

155

170

110

115

120

50

30

Y1300

60

65

70

700

750

850

135

155

170

110

115

120

70

30

Y1400

65

70

75

770

850

970

135

170

180

125

130

135

70

35
Specification of Shackle and Link

Size\Specification

Linking Shackle

End Shackle

Link

A

B

C

A

B

C

A

B

C

Y150

L×14

L×14

L×14

M×14

M×14

M×14

M12.5

M12.5

M12.5

Y200

L×14

L×14

L×14

M×14

M×14

M×14

M14

M14

M14

Y300

L×14

L×16

L×19

M×14

M×16

M×19

M14

M17.5

M20.5

Y400

L×16

L×19

L×22

M×16

M×19

M×22

M16

M20.5

M22

Y500

L×19

L×22

L×25

M×19

M×22

M×24

M17.5

M22

M26

Y600

L×22

L×25

L×28

M×22

M×24

M×28

M22

M26

M30

Y700

L×24

L×28

L×32

M×24

M×28

M×32

M22

M26

M32

Y800

L×25

L×30

L×34

M×24

M×30

M×34

M24

M30

M34

Y900

L×28

L×32

L×36

M×28

M×32

M×36

M26

M30

M36

Y1000

L×28

L×34

L×28

M×28

M×34

M×38

M30

M34

M40

Y1100

L×30

L×36

L×40

M×30

M×36

M×40

M32

M36

M42

Y1200

L×32

L×38

L×40

M×32

M×38

M×40

M34

M40

M46

Y1300

L×34

L×40

L×42

M×34

M×40

M×42

M36

M42

M50

Y1400

L×36

L×42

L×48

M×36

M×42

M×48

M40

M44

M54
Specification of Steel Roller
Size\Specification

∮D

K

E

R

G

F

L

H

A

B

C

A

B

C

A

B

C

A

B

C

A

B

C

A

B

C

A

B

C

Y150

40

50

60

26

26

26

30

30

30

56

56

56

40

55

70

10

20

25

length
+
1
5
0

16

16

16

Y200

40

50

60

26

26

26

30

30

30

56

56

56

40

55

70

20

25

30

16

16

16

Y300

50

60

70

26

28

35

30

30

32

56

58

67

40

60

75

20

25

35

16

20

22

Y40

50

60

70

28

35

40

30

32

35

58

67

75

50

60

75

25

35

45

20

22

24

Y500

60

80

100

35

40

48

32

35

40

67

75

88

60

70

80

25

35

45

22

24

30

Y600

60

80

100

40

48

50

35

40

45

75

88

95

60

70

80

25

35

50

24

30

34

Y700

70

90

110

48

50

50

40

45

50

88

95

100

65

75

85

25

40

50

28

34

38

Y800

80

100

120

48

50

55

40

45

50

88

95

105

65

75

85

25

40

60

30

36

40

Y900

85

100

140

50

50

55

45

50

55

98

100

110

65

75

85

30

45

60

34

38

42

Y1000

100

120

150

50

55

60

45

50

60

98

105

120

70

80

90

30

45

60

34

40

48

Y1100

100

130

160

50

55

65

45

50

60

98

110

125

80

90

100

30

45

60

36

42

50

Y1200

120

140

180

50

60

65

50

60

60

100

120

125

80

90

100

40

50

70

38

48

50

Y1300

125

140

180

55

65

70

50

60

70

105

125

140

80

90

100

40

50

70

40

50

52

Y1400

130

160

200

55

70

70

55

70

75

110

140

145

90

100

110

50

60

75

42

52

60

Remarks(As shown in the form)
A means rubber fender lengh is 1000-1500mm;
B means rubber fender lengh is 1500-2000mm;
C means rubber fender lengh is 2000-3000mm;
Material A3